The Pistoia Underground Museum is accessed from the ancient Ospedale del Ceppo in Pistoia.
The building, built together with other structures of the same hospital, stands where once the gora of the Brana torrent was located, which was then diverted in the Middle Ages before becoming Gora di Scornio.
La Brana passed from Ripalta to the current Via delle Pappe, skirting the Ospedale del Ceppo, then heading to Piazza San Lorenzo and crossing the current Via di Porta San Marco.
Because of his continuous overflows created frequent inconveniences, the stream was diverted several times due to urban planning needs.
The recovered underground Pistoia path reaches a length of 1200 meters, of which 650 are visible.
Walking in it is a fascinating experience from the artistic and historical point of view as from there it is possible to admire the architectural stratification that has followed from the Renaissance onwards.
Starting from the ancient hospital of the Ceppo, during the journey we find ourselves in front of numerous wash houses, where the women of the time went to clean their clothes.
This habit was not very hygienic since the ancient river, before reaching the wash houses, passed under the hospital where it was used as a dump for hospital waste; this was the cause and vehicle of diseases especially during pestilence periods.
Of particular interest is the wheel which, thanks to the strength of the river, which was appropriately diverted during the autumn months, fed the ancient millstones of the mill, a peculiar and unique characteristic of all the Tuscanian cities where it is possible to produce one of the best olive oils of the world.
The underground river in fact played a very important role in ancient society, where due to the lack of electricity, the task of running crushers, mills and making blacksmith's hammers was delegated to water.
The route stops below Piazza San Lorenzo, but the Pistoia Underground project envisages a subsequent and further development in the direction of the Santa Barbara Fortress, thus becoming one of the largest hypogeum routes in Europe, which will measure around 1800 meters.
The archaeological site is the longest underground route in Italy to be accessible to disabled and blind people.
The guided tour continues in the historic rooms of the Hospital and in the smallest Anatomical Amphitheater in the world, in the room "Filippo Pacini" of medical Academy in which the doctors were compared and trained, which shows how the city of Pistoia was one of the most advanced surgical centers of the time, especially with regard to obstetrics.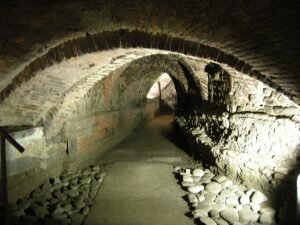 USEFUL INFORMATION
Entrance from Piazza Giovanni XXIII °, 13 – "Pacini" Medical Academy
Telephone: 0573-368023
e-mail: pistoiasotterranea@irsapt.it
Hours: every day from 10am to 6pm [ticket office closes at 5pm]
Guided tours at 10.30-11.30-12.30-14-15-16-17
Prices:
SINGLE SINGLE € 9.00
REDUCED SINGLE € 7.00
GROUPS € 6.00
SCHOOLS € 4.50
The ticket includes the guided tour